Hello,
From the very onset of this crisis, I've said that data and science would inform my decisions. And science and data remain my guideposts as we begin the reopening of Oregon.
As we begin the process of reopening and building a safe and strong Oregon, I again ask Oregonians to come together and be smart. Reopening any part of our state comes with risk.
This virus is still very dangerous, and it still poses a great threat. Please follow the safety measures we are putting in place to help these businesses reopen — we've had the best doctors and public health experts guide us on how to safely and gradually reopen Oregon. It's up to us to follow their advice if we want to keep Oregon safe and strong.
Be well,
Governor Kate Brown
---
---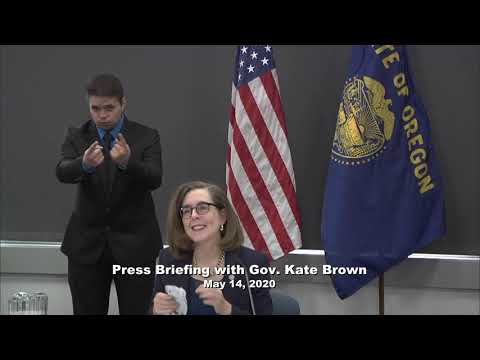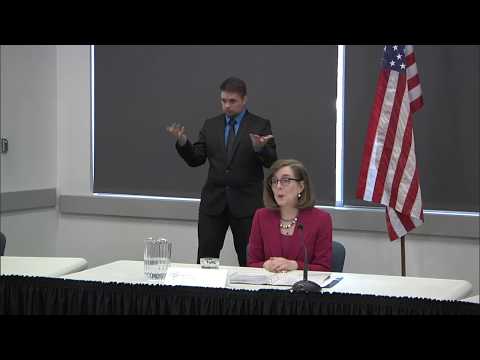 ---
Statewide: Baseline Reopening
Guidelines and safety measures for operating retail, take-out restaurant service, childcare, summer camps and summer school, outdoor recreation, etc.
Phase 1
First reopening stage, allowed in specific counties that qualify. Includes limited reopening of restaurants and bars, personal services, gyms, and malls. Gatherings of up to 25 people allowed for recreational, social, cultural, civic or faith events – with physical distancing requirements.
Phase 2
After 21 days in Phase 1, counties that meet specific prerequisites may be able to enter Phase 2. Counties that are approved to move into Phase 2 will be able to relax some of the restrictions that have been in place and some sectors will be able to reopen.
Phase 3
Mass gatherings such as major concerts or sporting events with live audiences will require a reliable treatment or vaccine to be available.
---
Statewide Guidance
Guidance that applies statewide, immediately:
---
Stay Home Except for Essential Needs

Multnomah County remains under the Stay Home baseline guidelines under Executive Order 20-25.

Failure to comply with the order will be considered an immediate danger to public health. Check back here for more information about which counties will be entering Phase 1 of reopening and when.

Under the Stay Home order, here is what is and is not currently allowed for these counties:
Allowed
(must keep 6 feet from others)
Hospitals, health care, non-urgent procedures
Grocery stores
Banks and Credit Unions
Pharmacies
Certain retail stores
Take-out/delivery from restaurants and bars
Veterinary care and pet stores
Gas stations
Outdoor activities like walking your dog, jogging, or biking in your neighborhood
Child care facilities and babysitters (only if abiding by new rules)
Some state parks (day-use only)
Not Allowed
Social gatherings (parties, celebrations) with people from outside of your household
Dine-in restaurants and bars
Nightclubs and concerts
Shopping at outdoor or indoor malls and retail complexes
Gyms, sports and fitness centers, health clubs, and exercise studios, dance and yoga studios
Hair salons, barbershops, nail salons, day spas and massage services, non-medical wellness spas, cosmetic stores, tattoo parlors
Theaters, amusement parks, arcades, bowling alleys, music concerts, sporting events, museums, skating rinks
Some state parks, playgrounds, some campgrounds, pools, skate parks, festivals
---
Answers & Resources by Topic
Answers & Resources by Topic
Health & Safety
If you have symptoms of coronavirus, call your doctor or dial 211. Reduce the spread of coronavirus by staying home, washing your hands, and covering your cough with an elbow. In public, observe social distancing by staying six feet from others.
Education & Childcare
K-12 schools are Distance Learning; lower-income families can still receive free meals. College and university curriculum is online. Currently child care facilities are for the children of frontline workers. New guidance is coming May 15th for child care, summer schools, and camps.
---
For Workers
Unemployment Insurance (UI) benefits are available to workers who have had hours reduced or been furloughed or laid off. Oregon law guarantees employees access to sick leave (which can be used to care for sick family or child care during closures).
For Employers
Access assistance programs via the Small Business Navigator to help reduce the financial impact on your business. There is a 90-day moratorium on commercial evictions for nonpayment. Social distancing is recommended for all workers and patrons.
---
For Seniors
Oregonians who are 65 years and up are in a higher-risk group and need to take increased precautions to avoid COVID-19. Find recommendations here for those providing care to seniors as well.
For Immigrants & Refugees
The public charge has been lifted for COVID-19. There will be no charge for getting tested or treated for COVID-19, even if you do not have insurance. Find more answers and resources here in 11 languages.
---
Housing & Homelessness
Residential evictions have been halted through June 19th, and there can't be fees for nonpayment. Contact your landlord or mortgage lender if you will not be able to make payments. If you need to find a shelter, call 211.
Other Resources
Miscellaneous resources, including myth-busting, accessing programs like food banks and free internet, and ways you can safely volunteer to help support your local community.
---
Federal Updates
Find what the federal government, including the President, Congress, & federal agencies, are doing to limit the spread of COVID-19 in the U.S. and to lessen its impact.
Executive Orders
Read the full text of all of the Governor's Executive Orders related to coronavirus, including their translations available in eleven languages.